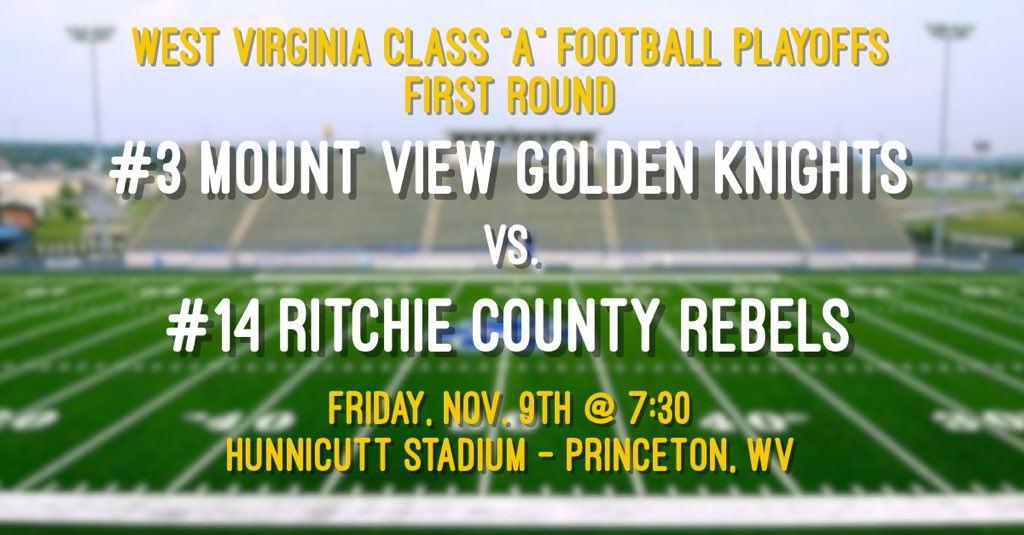 Photo: Twitter @MountViewFB
#6 Ritchie Couny Rebels (7-3)

(2-7) at

#3 Mount View Golden Knights (9-1)

(8-1)
Date: Friday, November 9, 2018.
Where: Anne S. Hunnicutt Stadium – Princeton, WV
Time: 7:30 p.m.
All-time record: Tied 0-0
Players to watch:
Mount View – QB Jesse Rose, WR Marqus Ray, RB Elijah Barner, RB Ty Powell, RB/DE Micah McLaughlin, RB Terry Headen
Ritchie County – QB Dakota Wayne, RB Zach Cline, RB Greg Owens, RB Tre Moss, WR Tatem McCloy
What to watch for:
Mount View:


The Mount View Golden Knights are now 9-1 after picking up a 26-12 win over Greenbrier West. The Golden Knights grabbed the #3 seed in the 1A WVSSAC playoffs and will play their first playoff game in ten years. Mount View's field at Vic Nystrom Stadium was deemed unsuitable for the WVSSAC's playoff guideline, so the Knights will host Ritchie County at Anne S. Hunnicutt Stadium in Princeton, WV. The Knights had been without their senior leader Elijah Barner for three games as he has been held out with a leg injury, but Barner was able to return for senior night and finish with 145 yards rushing and four scores. Barner finished the season with 104 rushes for 900 yards and 11 touchdowns. Tailbacks such as Terry Headen and Ty Powell stepped in the backfield in Barner's absence. Headen finished with 510 yards on the ground and seven scores, while Powell led the Knights in rushing with 931 yards and 11 touchdowns. Sophomore quarterback Jesse Rose threw for 942 yards on the season with 16 touchdown passes. Marqus Ray was his favorite target, as he hauled in 21 passes for 622 yards and nine scores. Barner finished in the lead on defense with 86 total tackles while chipping in two sacks and a fumble recovery. Micah McLaughlin finished with 73 tackles, three sacks and three fumble recoveries. Jasauni Saunders was impressive from his defensive back position, where he added 67 tackles and five interceptions.
Ritchie County:


The Ritchie County Rebels will leave the friendly confines of Chuck Schofield Memorial Stadium and make the 3.5 hour trip to Princeton to take on the Golden Knights. The Rebels, led by first year head coach Rick Haught, finished the regular season with a 7-3 record – capped off with a 50-30 win over Calhoun County. Ritchie County is led on offense by their sophomore quarterback Dakota Wayne. Wayne threw for 689 yards on the season with eight touchdowns, with 75% of those scores going to senior wide reciever Tatem McCloy. McCloy caught 25 balls on the season for 441 yards and six scores. The Rebels have deployed a balanced rushing attack with three tailbacks going for over 800 yards on the season. Sophomore Tre Moss has rushed for 980 yards with four touchdowns, junior Greg Owens picked up 825 yards and nine scores, while Zach Cline rounds out the rushing attack with 814 yards and ten touchdowns. Cline is the leader for the Rebel defense, as he has totaled 40 tackles with a sack, three forced fumbles, and a fumble recovery. This will be Ritchie County's first playoff game since 2013.
The collective account for the staff of CoalfieldSports.com