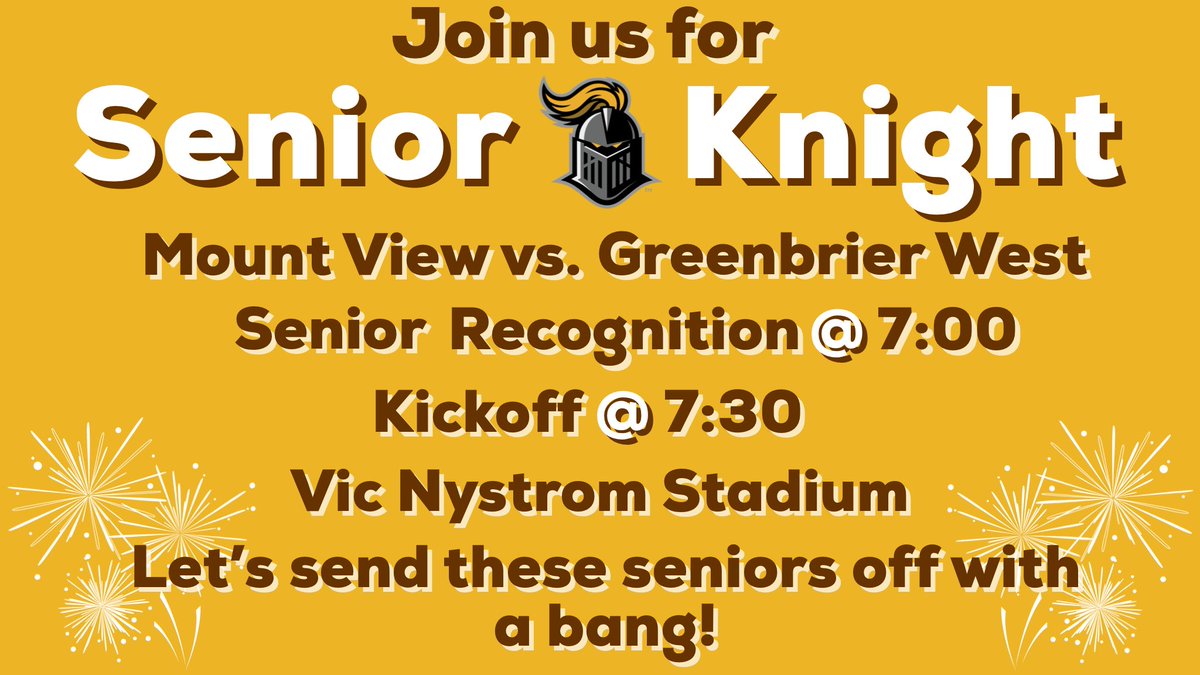 Photo: Twitter @MountViewFB 
Greenbrier West Cavaliers

 (2-7) at 

Mount View Golden Knights

 (8-1)  
Date: Friday, November 2, 2018.
Where: Vic Nystrom Stadium – Welch, WV 
Time: 7:30 p.m.
All-time record: Tied 0-0
Players to watch:
Mount View – QB Jesse Rose, WR Marqus Ray, RB Ty Powell, RB/DE Micah McLaughlin, RB Terry Headen
Greenbrier West – RB Noah Brown, RB Chad Ramsey, WR Kaiden Pack, LB Zachary McClung
What to watch for:
Mount View: 
The Mount View Golden Knights are now 8-1 after picking up a 42-6 win over the Fayetteville Pirates. The Golden Knights, who were ranked #1 in the 1A WVSSAC rankings for the majority of the season, are currently in a second place tie with 9-0 Midland Trail. It will be "Senior Knight" for Coach Larry Thompson's team when the Cavaliers from Charmco come to town. The Knights have been without their senior leader Elijah Barner the last three games as he has been held out with a leg injury, but players such as Jesse Rose, Terry Headen, Ty Powell, Micah McLaughlin and Marqus Ray have stepped up in Barner's absence. In the win over Fayetteville, Ty Powell led the Knights with 240 yards on the ground and two scores while Terry Headen finished with 112 yards and score. Marqus Ray chipped in 27 yards and a rushing touchdown and quarterback Jesse Rose threw a touchdown pass to Matt Thompson. Kamal Collins was the leader on defense for the Golden Knights with 10 tackles and a sack.
Greenbrier West:
Greenbrier West will travel to Welch for the first time in school history to take on the Golden Knights. The Cavaliers are currently 2-7 on the season with their two wins coming over Buffalo and Richwood. Noah Brown and Chad Ramsey have been the two bright spots on offense for head coach David Witt. Brown has carried the ball 161 times for 908 yards and four touchdowns, while Ramsey has 168 rushes for 792 yards and three scores. Zachary McClung, a sophomore linebacker, leads the Cavaliers defense with over 13 tackles per game. Through the first nine games, he has 121 tackles and has chipped in a handful of sacks and forced fumbles. David Witt is in his second year at the helm of Greenbrier West. He took over for long time head coach Lewis McClung who led the Cavaliers to a Class A state championship appearance in 2013 vs. Madonna.
The collective account for the staff of CoalfieldSports.com